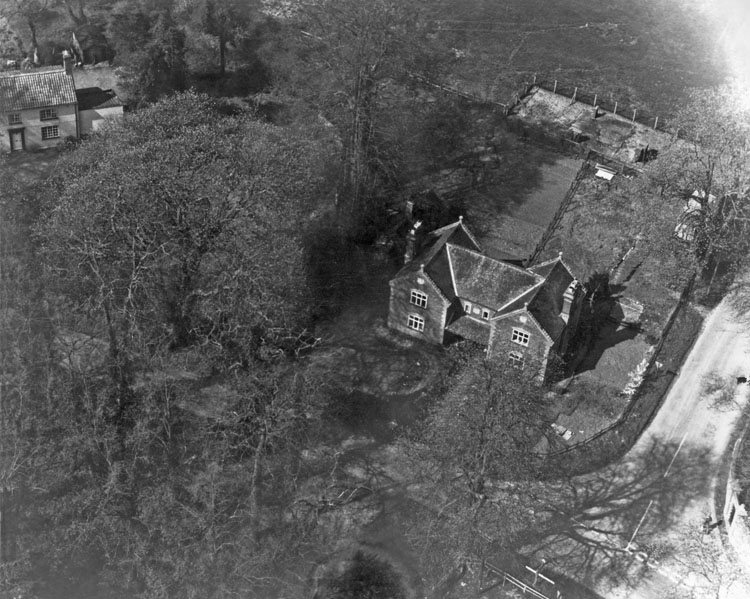 Numbers 1 and 2, Hoe. Hoe Hall farm cottages were numbered from 1 to 15.
Maurice Brown, who was born at No. 13, recalls that at No.1 Mrs Riches kept a shop selling sweets, cigarettes and razor blades. They had a pet monkey living in a shed. 'If you gave it your hanky it dropped it in the gutter, wrung it out and gave it back.' The shop was taken over by Mrs Annis. Village children went to Mr 'Slasher' Annis for a haircut.


---
Nos.1 and 2 are different from the
other cottages belonging to Hoe Hall.

They were built in 1872 in a decorative
style, without the use of local flint. They
bear the date divided between the two
front gables with the monogram of
Thomas Byam Grounds in the centre.
The materials and decoration match
that of the gateway to the churchyard
nearby.

Repair work to the chimneys in 2014.































---


The square yellow clay chimney pots were made by Lumby's of St Martins Works, Stamford, Lincolnshire, in 1869.


---


After the hurricane in 1987 Bob and Sue Whittle from No. 2 had a big shock. Fallen trees had squashed their car.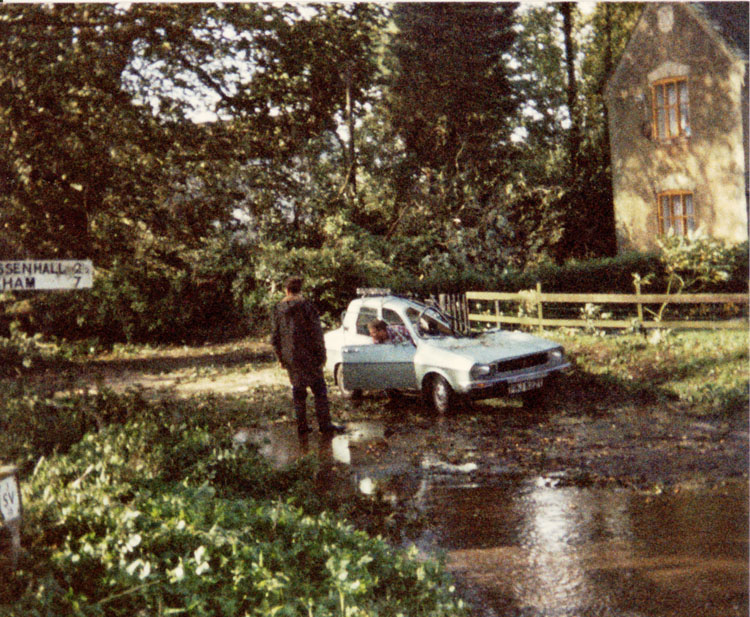 Looking past the church towards Swanton Morley. One of the big conker trees has split in half. Cliff Hudson took these photographs.


---

3 & 4 Hoe

Numbers 3 and 4 Hoe.


---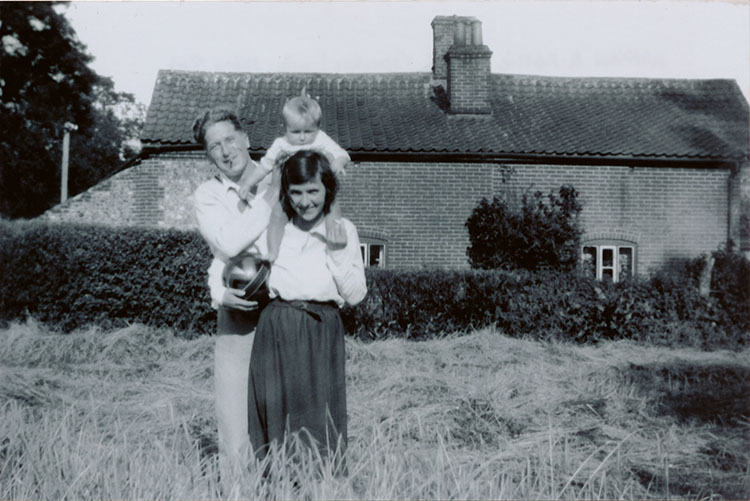 William and Nellie Wright (née Sparkes) with their son Ron, in the field behind 3 & 4, c. 1931. Nellie's parents were Richard and Susanna Sparkes who lived at 4, and later at 9. (see 8 & 9 Hoe for more about the Sparkes family).


---
The wedding of Mrs Joan Clarke, daughter of Mr and
Mrs F. Bear of 3 Hoe, 1954.
---


John Holmes and 'Harbo' Studd in the garden of 3 Hoe. It must be the 1960s – the lads are in the height of fashion.


---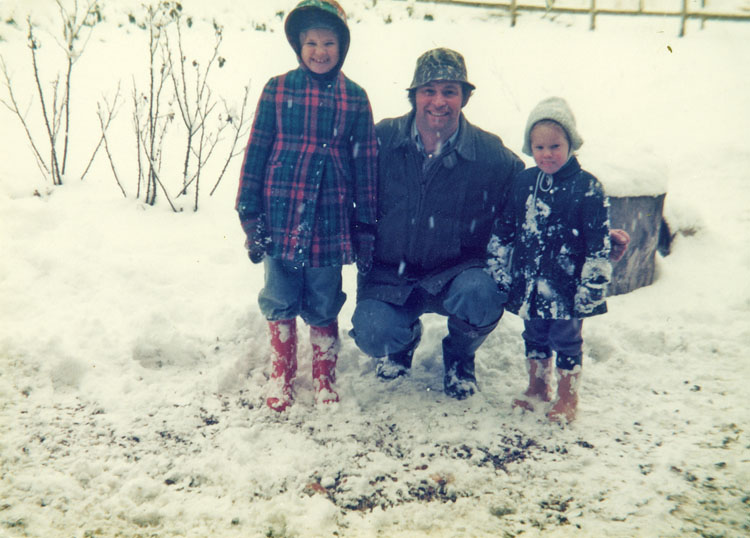 Cliff Hudson with Francesca and Danielle.




Heather Hudson with the girls at Manor Farm.
---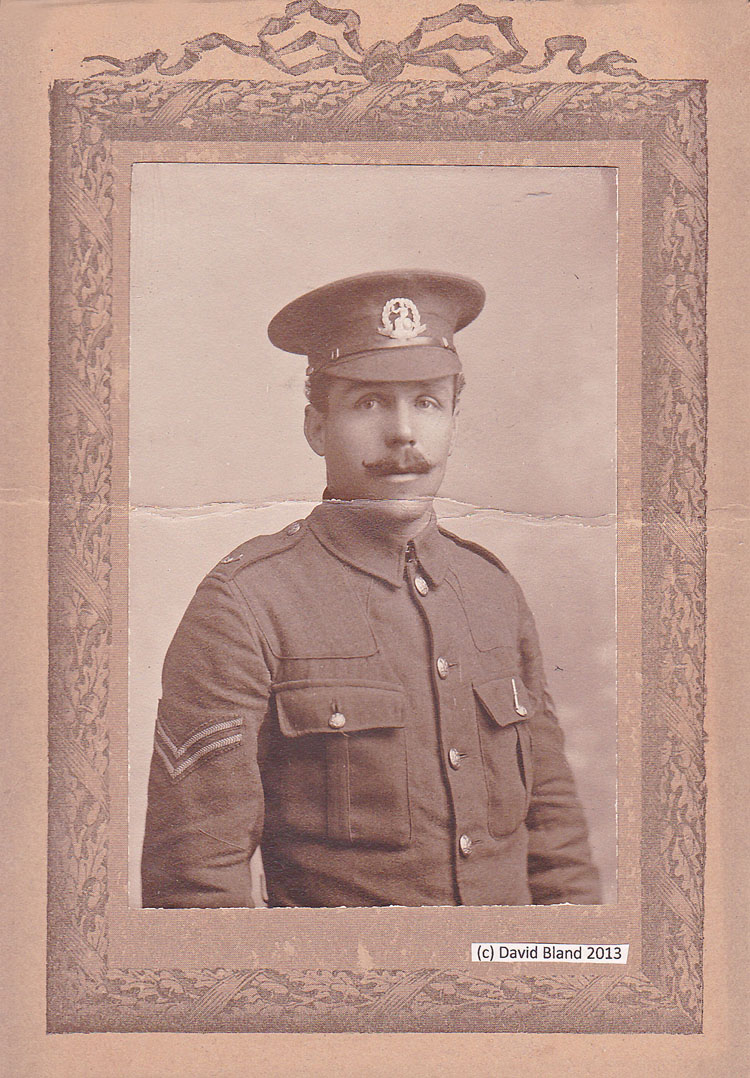 In 1891 Robert Kendall was the
second oldest in a family of six children
living at 3 or 4, Hoe. They were all born
in the village. Their father was an
agricultural labourer. By the time of the
next census in 1901 the family had
moved from Hoe to Quebec Farm
cottages and Robert was a carter at
the brickyard.

By 1911 he was a clerk with the 2nd
Battalion Norfolk Regiment, stationed
at Belguam, India.

He served in The Norfolks for
seventeen years, in India, South Africa,
Italy and France. He died in April 1918
of wounds received in France and is
buried in Greetham, Rutland where his
wife, Charlotte, lived.

He is commemorated on the cenotaph
in Dereham and on the Roll of Honour
in the Memorial Hall, Dereham.
---


Wedding of Miss Eileen Frary, of 4 Hoe, in Dereham Parish Church, 1967.


---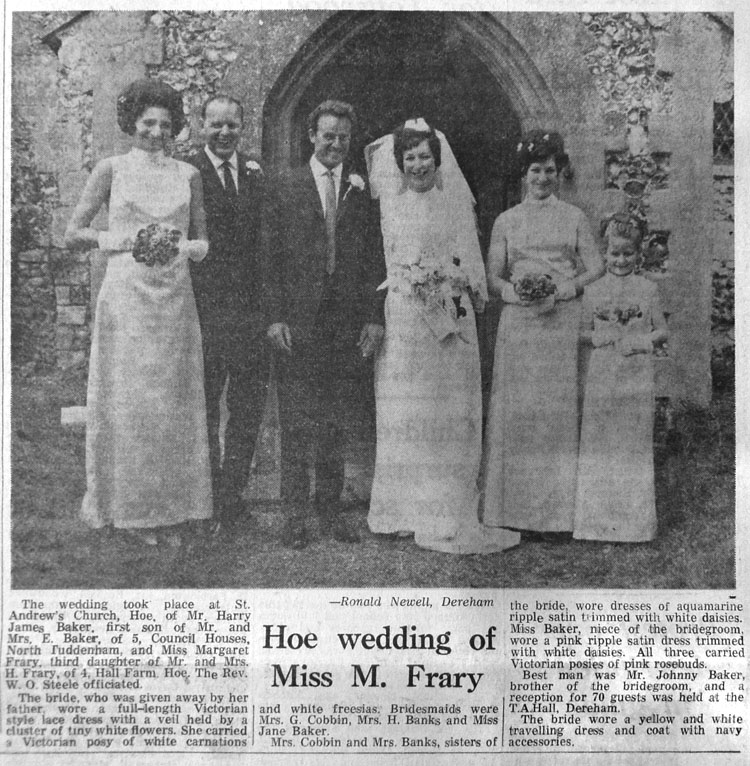 Wedding of Miss Margaret Frary of 4 Hoe at St Andrews, Hoe, 1969.


---


Pat, Geoff and Tony Jarrett of No. 4 coping with the flooding in 1983.


---
Water run-off from farmland towards
Northall Green turned Hall Road into
'Hoe river'.
---